Photography Walks in Redesdale – Monday 22nd August, 2022: Hindhope Linn
Date :
August 22, 2022 10:30 am
End Date :
August 22, 2022 12:45 pm
Address :
blakehopeburnhaugh, Newcastle upon Tyne NE19 1SW
Price :
£10, with £5 concessions available
Buy Tickets
Please note, the above link will open in a new window and take you to another website to book your tickets.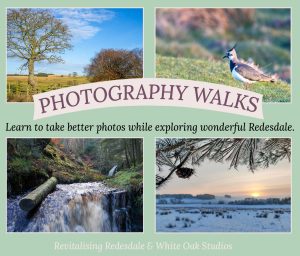 Christine Woodcock of White Oak Studios is continuing her regular photography walks in Redesdale throughout the summer. Walkers and photography beginners or enthusiasts alike are invited join in to photograph the landscape, flora and fauna. Booking is essential and tickets are £10. £5 concessions are available.
This route of around 2 miles takes us to the spectacle of Hindhope Linn that lies in an area of Kielder/Redesdale forest close to the A68 nr Byrness. The linn (a very pretty waterfall) can be found slightly off the beaten path in a magical dell of mosses, lichen and tall evergreens.  The duration of the walk allows time for lingering by the falls and experimenting with various shutter speeds. 
Please meet at the car park at Blakehopeburnhaugh (what3words: rocks.event.paces). This is close to the A68, sitting at one end of Kielder Forest Drive. The car park is situated on the Pennine Way, part of which makes up our route.
Distance: approximately 2 miles
Duration: approximately 2 hours
Difficulty: Although this is a short walk on well used paths, parts of the woodland section are narrow, slippery and uneven, in one area the path passes close to the top of the ravine.
​Close to this site, high on the hill, sits the ancient stone circle of Three Kings this affords wonderful views of the Pennines.  Depending on the weather conditions and the ongoing forestry work, those who choose to could visit the stone circle as well.
Stout footwear needed, please come prepared for rain, wind and sun.
This event is supported by Revitalising Redesdale's Community Heritage Fund. To find out more please visit www.revitalisingredesdale.org.uk/projects/community-heritage-fund/.