Photography Walks in Redesdale – Saturday 13th August, 2022: Otterburn Village
Date :
August 13, 2022 3:00 pm
End Date :
August 13, 2022 5:15 pm
Address :
Otterburn Village, NE19 1JT
Price :
£10, with £5 concessions available
Buy Tickets
Please note, the above link will open in a new window and take you to another website to book your tickets.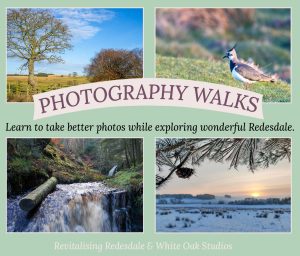 The fantastic Christine Woodcock of White Oak Studios is continuing her regular photography walks in Redesdale throughout the summer. Walkers and photography beginners or enthusiasts alike are invited join in to photograph the landscape, flora and fauna. Booking is essential and tickets are £10. £5 concessions are available.
We will begin our walk at Otterburn Mill to see the signs of Redesdale's industrial past. Following the path of the Otter Burn you can enjoy the seasonal delights in this wooded valley. The now partially ruined Victorian Otterburn Hall awaits at the top of this walk.
Please meet at 3pm at the car park at Otterburn Mill (early arrivers may enjoy the shops and cafe there). This is close to the A696 and is well signposted from that road and the nearby A68.
Distance: approximately 3.5 miles
Duration: approximately 2.5 hours
Difficulty: Easy / Moderate, parts of the burn section can be muddy and therefore slippery after inclement weather. This route crosses farmland and both cows and horses are likely to be on the pathway. Stout footwear is needed, please come prepared for rain, wind and sun.
This event is supported by Revitalising Redesdale's Community Heritage Fund. To find out more please visit www.revitalisingredesdale.org.uk/projects/community-heritage-fund/.