Photography Walks in Redesdale – Saturday 22nd January: Elsdon
Date :
January 22, 2022 3:30 pm
End Date :
January 22, 2022 5:00 pm
Address :
Elsdon Village NE19 1AD
Price :
£10, with concessions available
Buy Tickets
Please note, the above link will open in a new window and take you to another website to book your tickets.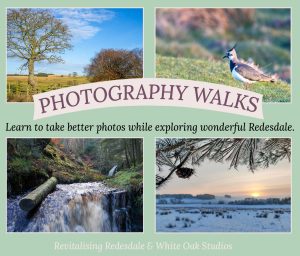 The fantastic Christine Woodcock of White Oak Studios is running regular photography walks in Redesdale throughout the year. Four locations within beautiful and rugged Redesdale have been carefully chosen and will be revisited throughout the changing seasons.  Walkers and photography beginners or enthusiasts alike are invited to attend one or more walks to photograph the landscape, flora and fauna. Booking is essential and tickets are £10. Concessions are available on request.
History and beauty abounds in Elsdon meaning you do not have to travel far for wonderful subjects, making this more of a look around than a 'walk'. Find a bastle, a church, and medieval landworks among other things merely a stones-throw apart.  Get tips on taking photos in beautiful but dark places when we get a privileged chance to work inside St Cuthbert's Church (please bring a face-mask for this section).
Please meet at 3.30pm on Elsdon village green.
Distance: under 1 mile
Duration: approximately 1.5 hours
Difficulty: Easy.
To book online please follow the booking link on this page or visit www.whiteoakstudios.org/walks.html.
If you have any trouble or to book at the concessions rate please contact Christine for assistance  at chrisfromwhiteoakstudios@gmail.com or phone 07737 518867.
Other Upcoming Autumn & Winter 2021/22 dates
Saturday 29th January 2022: Otterburn Village Trail
Saturday 6th February 2022: Woodburn
Sunday 20th February 2022: Hindhope Linn & Three Kings
Saturday 30th April 2022: Elsdon Village Green
This event is supported by Revitalising Redesdale's Community Heritage Fund. To find out more please visit www.revitalisingredesdale.org.uk/projects/community-heritage-fund/.