"Love Local" Summer Holiday Programme – North Tyne Youth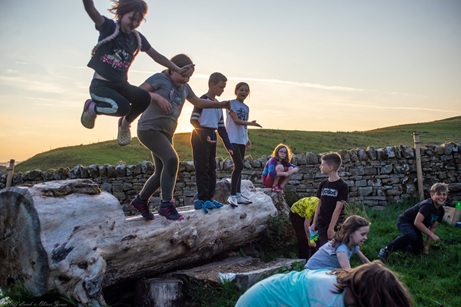 In summer 2021 the Community Heritage Fund awarded £2,000 to North Tyne Youth for their "Love Local" Summer Holiday Programme. For this project, North Tyne Youth wanted to provide a Summer holiday programme that would immerse young people in their surroundings, truly making the most of the incredible and unique nature of Redesdale and encouraging resident young people to see Redesdale through fresh eyes.
Report by Lisa Robinson, Youth Development Worker for North Tyne Youth
North Tyne Youth works with young people aged between 8 and 19, and living in rural north of Tyne. We enable young people to advance in life and flourish, by offering recreational and leisure time activities that promote their social, emotional and physical wellbeing, and by providing support that enables them to be responsible and active participants in their local communities.
Our holiday programme aimed to address the challenges of rural living, which can often cause young people to miss many recreational opportunities and access to leisure facilities.
We planned to deliver two residential (sleep-over) breaks, in Otterburn and Elsdon, for young people from Redesdale and their peers.
We knew that allowing young people to have access to NTY's tailored service would bring them together and give them the chance to feel connected, make friends and participate in activities they wouldn't usually get the opportunity to be involved with.
As an organisation, we want to deliver ambitious and creative holiday programmes as we recognise the immense benefits they provide for our young people, especially when they are off school and otherwise unable to socialise with their peers.
Project aims
This project aimed to educate, inform and engage young people, promoting the many benefits of living rurally, and shining a positive light on their own surroundings. Families of participants were given the chance to learn more and engage more holistically with their local area, and will be able to encourage and motivate friends, family and neighbours to adopt similar engagement.
The project aimed to increase participants' curiosity about their surroundings, promoting an attitude of continuous learning that will extend well beyond the life of the project.
The project aimed to help shape future delivery, giving us the opportunity to undertake further consultations with young people and families from Redesdale to continue their engagement with their community and landscape.
This project aimed to leave a legacy of enhanced awareness and understanding of the Redesdale area, by engaging young people very interactively with the geography and community of the local area. We worked with participants to encourage them to talk about their learning with their peers, and asked them to become community cheerleaders for their local area.
The project aimed to show young people and their families all of the ways that Redesdale can be enjoyed, and to inspire the community to spend more time in Redesdale, celebrating what is on their doorstep.
What we achieved
We delivered two residential breaks in Redesdale for 39 young people aged 8-13 from the Redesdale area. These included accommodation, food and a full activity programme.
We used local businesses like Ravenscleugh campsite and the Border Reiver's catering service, and worked with delivery partners like VARC, Northumberland Wildlife Trust, NNPA, and local activity providers to offer an exciting, unusual and diverse activity programme to our young people. This included an adventurous walk across Benshaw Moor and a picnic by the waterfall, geocaching and potion-making, creating giant landscape pastel drawings, archery, live music, and street dance in a barn.
We gave young people the chance to enjoy free play and time to explore areas of Redesdale they wouldn't usually see, and to take a closer look at familiar local surroundings. Creating art outdoors really assisted with this: it allowed young people to see their landscape through fresh eyes and celebrate its beauty and richness.
We encouraged young people to take an interest in the natural world, allowing them to explore and learn about the unique habitat of local sites of interest. Our partner providers enthused our young people and supported them to become champions of rural living, and the wider environment. Young people pretended to be bats looking for food, mixed potions from items found on the forest floor, identified butterflies and other insects, and sought evidence of wildlife activity.
We spent time learning from young people about what they enjoy doing, how they connect with the people and places around them, and how we can support them to continue doing this during the challenging and unprecedented times we are facing. We found out that they love to be outside (in almost all weathers!), that they love living where they do but face particular challenges as a result of it (for example, they can't easily access leisure, recreational, health and wellbeing facilities and services, or travel independently without a parent/carer), and that they want to shout about the natural world (some of the young people talked to us about how important it is for us all to take care of the environment and ideas they have for doing this).
Participant feedback
"I've never done anything like this before, but I would definitely do it again!"
"I liked learning how to do archery, and I popped all the balloons!"
"It was fun trying to be a bat, but it must be hard for them to find food."
"I can't believe we had a live gig with a proper musician on our sleepover!"
"The pizzas [from The Border Reiver] were so delicious-we never get takeaways in the countryside!"
"We found all the geocaches, even the ones that were really well hidden. It was good to run around with my friends."
"I've really missed my friends during Covid, and sometimes I have hardly seen them, so I really liked being able to play with them."
"Thank you for giving us fun things to do in summer with our friends!"
"It's even better to be together than online!"