Archaeological Excavation report produced for Yatesfield enclosed settlement
February 10, 2022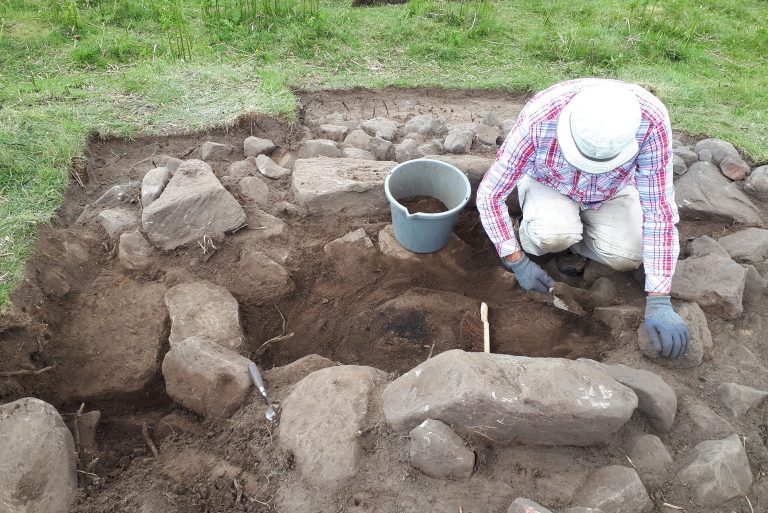 In June 2021, we carried out an archaeological excavation and earthwork survey, to investigate a previously unrecorded possible Iron Age/Romano-British settlement near Yatesfield, a remote upland farm on the Otterburn Military Training Area. Earthworks visible on LiDAR imagery appeared to show a previously unrecognized enclosed settlement, potentially consisting of several roundhouses, circular hut platforms and agricultural terraces.
This was a partnership project between Revitalising Redesdale, the Ministry of Defense (MOD)/Defense Infrastructure Organisation (DIO) and Breaking Ground Heritage and engaged volunteers from the local community and Wounded, Injured and Sick (WIS) veterans and serving personnel from the military community.  
A report of the results has now been produced and can be viewed/downloaded here.
The main findings detailed in the report are:
The earthwork survey demonstrated that the features include an enclosed settlement containing at least two circular hut platforms surrounded by agricultural terraces and roundhouses, with other as yet undated field systems nearby.
The excavations showed that the enclosure itself was made up of a large stone wall along the southern side which became an earth and stone bank around other sections.
Within the enclosure, we uncovered evidence of circular platforms, which could be roundhouses with clay floors.
At least one stone-floored roundhouse was found outside the enclosure around the edge of the agricultural terraces, which were cut/built up to the east of the enclosure running up the hillside. Another possible roundhouse and enclosure was found to the west.
Organic-rich material covering the stone flagged floor of the partially excavated roundhouse contained burnt plant remains, which returned a radiocarbon date of 40 BC – 130 AD, which places the settlement firmly in the Late Iron Age to Romano-British period.
This settlement, while only partially uncovered, appears similar in construction and date to the Late Iron Age/Romano-British enclosure and roundhouses excavated at Rattenraw Farm approx. 1.5 miles to the south-west.
Plans are being developed for a return visit to Yatefield in 2022, to try and uncover more of this fascinating site! Further information will be available here and on our social media pages.