Excavation report produced for Rattenraw
January 17, 2020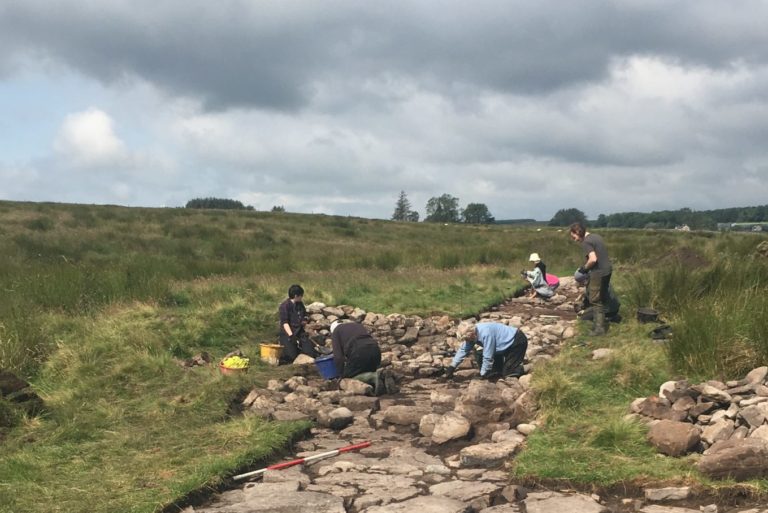 Our excavation of an Iron Age/Romano-British enclosed settlement at Rattenraw was carried out in July and August 2019. An initial archaeological evaluation report for the excavation has now been produced by The Archaeological Practice. You can download the full report here:
The main conclusions of the report are:
The site is confirmed as of Iron Age origin, by both structural elements and finds, which are typically dateable to the late iron age or Roman iron age period.
The structural evidence, together with finds evidence suggests that the enclosure was occupied in the iron age and used for domestic and agricultural activities, as indicated by a fireplace, cooking pottery and a quern.
Results of the excavation indicate that there were at least two structural phases to the settlement, revealed by a spine-like enclosure wall structure and layers of cobbled and paved surfaces.
The 'roundhouse' structures appear to have been of poor construction and may have only been used as animal pens, although one did appear to have a central hearth feature, which would indicate domestic activity.
The extensive and good-quality flagged stone flooring is similar to that found at other Iron Age sites in the area, such as Woolaw and Gunnerton. Its purpose might have been to provide an effective working surface, or hard standing for livestock.
A substantial ditch running between two roundhouses may once have been the original outer edge of the settlement, which was then subsequently extended.
There will be further research into the finds made and the results of this research will be published in due course. It is hoped that further investigations will be carried out at Rattenraw – further information and details will be available here and on our social media pages.