My Revitalising Redesdale – Nick's Story
April 17, 2020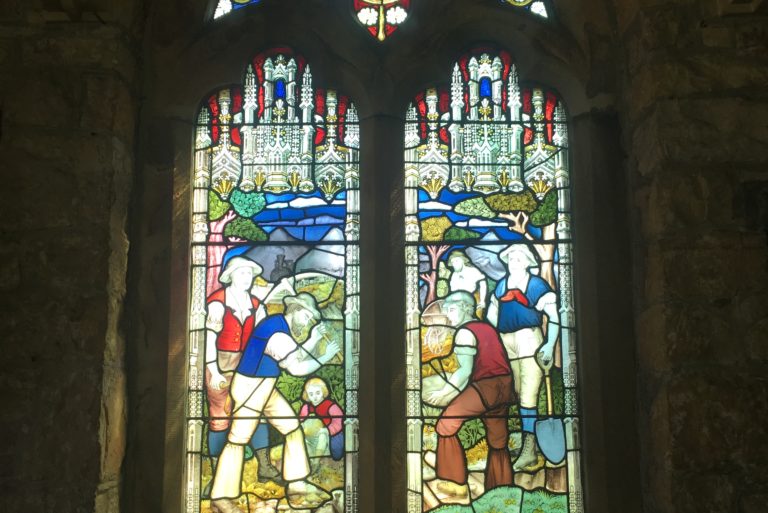 Hello! It's Nick Lightfoot, Revitalising Redesdale's Programme Officer, here for our latest instalment of the My Revitalising Redesdale blog.
Discovering Redesdale
In December 2017, I was looking for a career change and came across a position with Natural England for a Revitalising Redesdale Programme Assistant. "Redesdale, I wonder where Redesdale is …" I thought to myself. Having grown up in Coquetdale, the next valley over from Redesdale, it may surprise you to hear that I genuinely had no idea. But this highlights what is so special about the Rede valley; it is one of Northumberland's truly hidden gems!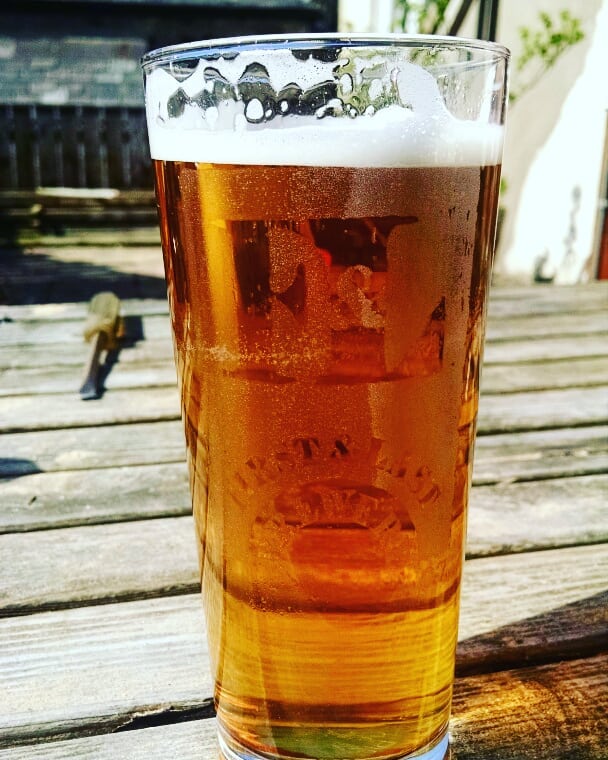 As a keen rambler and cyclist, I took the first chance I had to spend a weekend exploring the valley's byways. After a particularly hard ride on quiet roads, I found myself sitting in some late April sunshine outside the Bird in Bush, supping a local brew, and marvelling at my luck. How could somewhere like this have been on my doorstep without my knowing and where is everyone else!? Over the past two years, I've had numerous moments like that; they have given me a new perspective on the area I grew up so close to but have also highlighted the importance of the work we are doing through the Revitalising Redesdale Landscape Partnership Scheme. This is My Revitalising Redesdale.
More than just a walk in the countryside
You may be glad to learn that my day job doesn't normally consist of walks in the countryside. Most of the time, I pore over spreadsheets and reports, and work to balance cash flows for the programme. However, every now and again, a walk in the countryside is exactly what is needed and I would like to let you know about one of the best in Redesdale! Our Walk and Cycle Redesdale project aims to improve a set of circular routes centred around community hubs in the valley. One of the first routes we focused on is the Byrness to Heart's Toe and the Border Ridge loop, at the very top of Redesdale. My colleague Karen, who wrote last week's blog post, needed to survey the route to determine what signage and path improvements were required. Fortunately for me, she needed someone to come along for health and safety reasons and because it is easier to take photos, record GPS coordinates, etc. with a second pair of hands. Not to mention a dramatic improvement in conversation, albeit from a low base. Even more fortunately it was late June 2018, smack bang in the middle of our warmest summer in recent memory!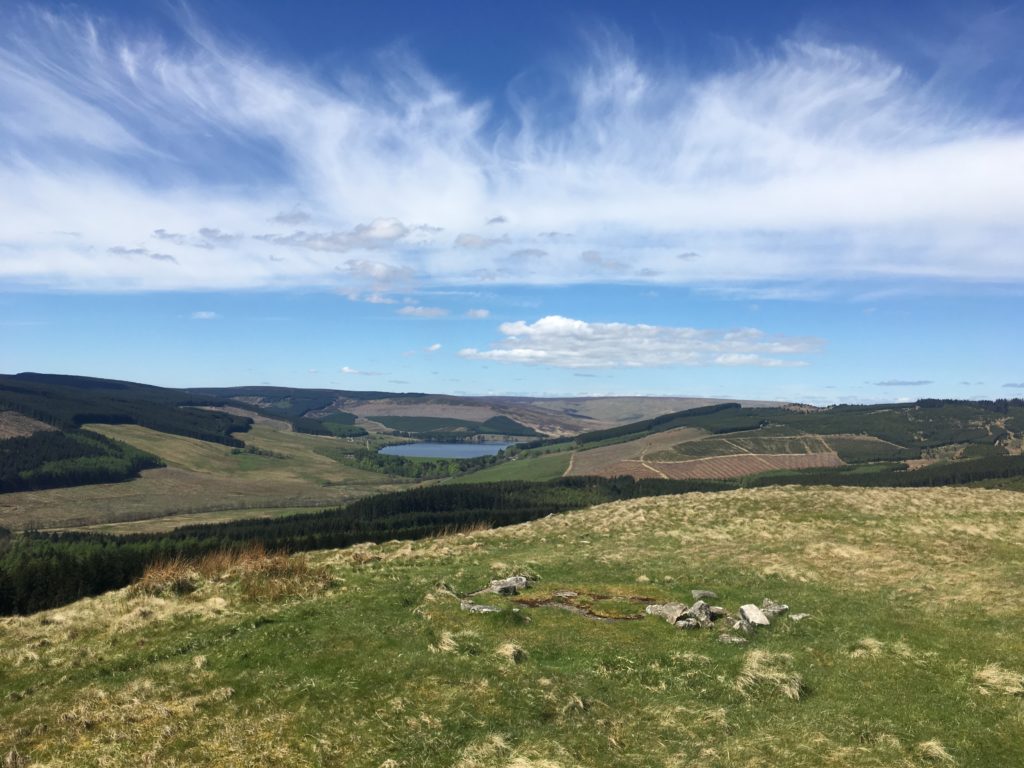 Leaving from St. Francis church, just south of Byrness, the route follows a steep section of the Pennine Way up Byrness Hill to a spectacular vantage point over Catcleugh Reservoir, Cottonshope valley, and Upper Redesdale. Most of the first half of the route is well sign posted and, barring a few incredibly muddy sections, didn't need much in the way of improvement. In fact, the section from Byrness Hill to Ogre Hill is one of the most enjoyable ridge walks I've done in Northumberland; including, a south-facing perspective of the Cheviot and the grassed-over remains of Chew Green Roman Fortlet. Did you know the Romans built a fort next to the source of the Coquet? It was news to me, but that was becoming a familiar feeling working in Redesdale.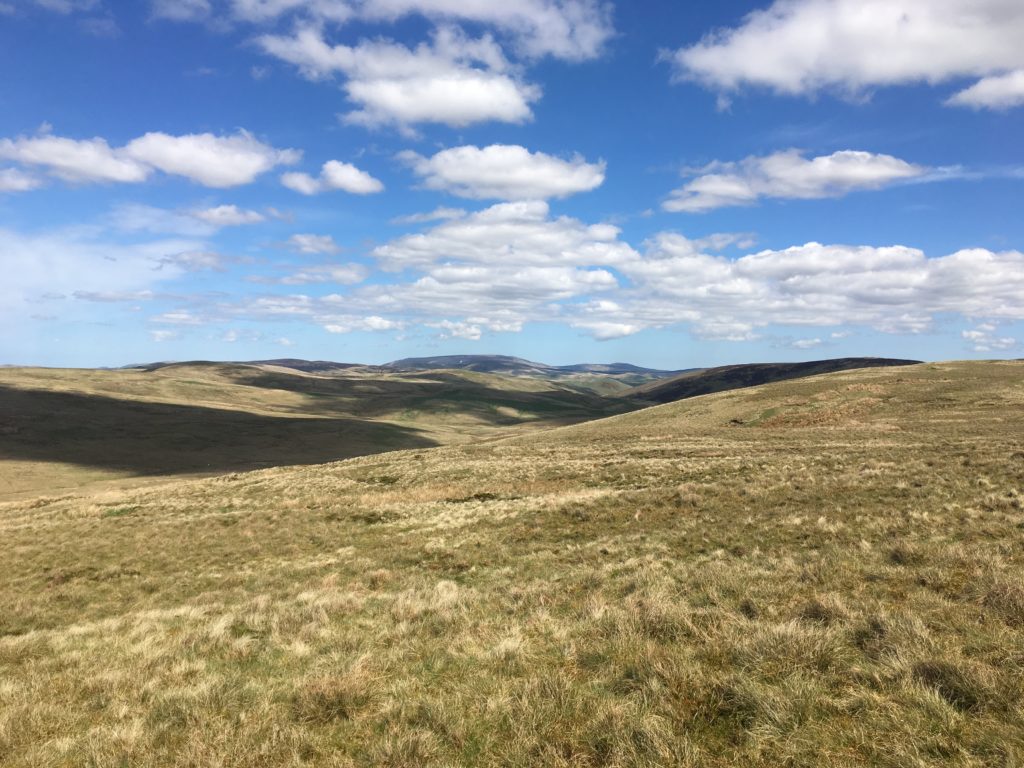 Once off the Pennine Way, there are two options – one for wet and one for dry weather. Usually, one is almost dry and the other is very wet. This is walking in the British uplands, after all! However, due to the exceptionally dry conditions we took the higher path to The Heart's Toe, which leads you over the top of a peat bog. It was a disconcerting feeling to be walking over a peat bog and not see any water, as well as a worrying indicator of the Climate Emergency. The dried sphagnum, reminiscent of bleached coral, really hit home the importance of our partnership's work in repairing peatland. According to International Union for Conservation of Nature, peatlands are the "largest natural terrestrial carbon store… provide safe drinking water, [and] minimise flood risk", so they are a big deal to put it lightly. Nevertheless, as it is important to find a silver lining to any situation, we took advantage of the fine picnic spot looking over into the Scottish Borders.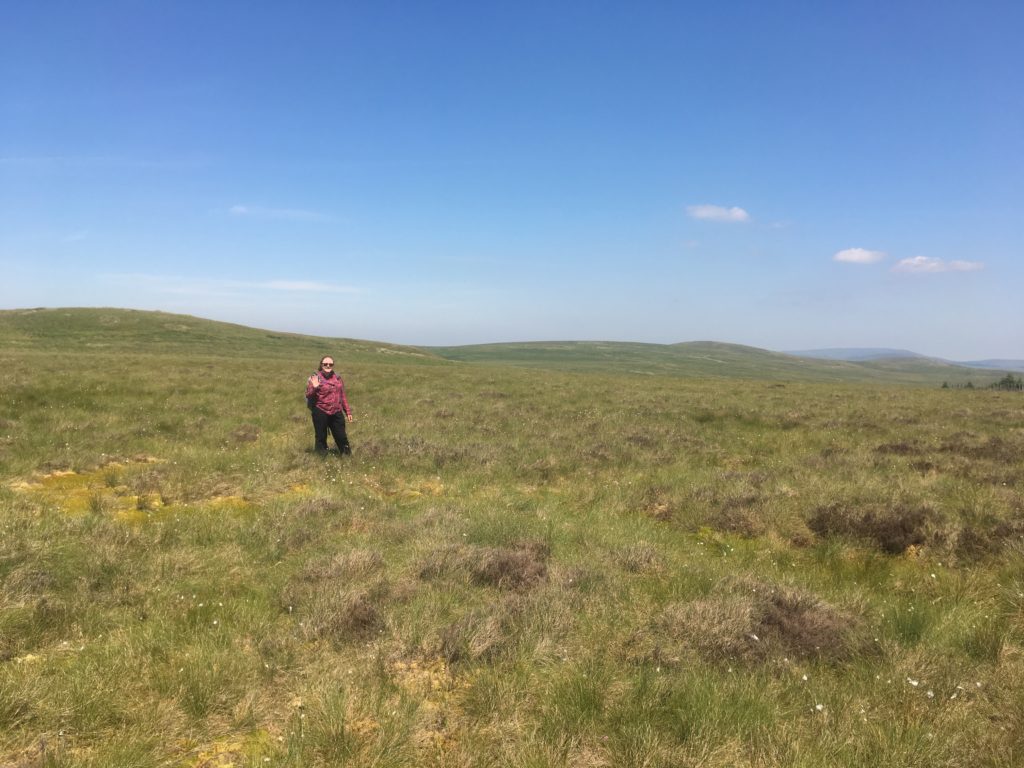 The way down from The Heart's Toe once followed a tributary to the Spithope Burn but had become impassable due to the mature conifer plantation. A section of the route along the south side of the burn was so overgrown and similarly difficult to navigate. However, a well-maintained forestry track handily avoided both. We noted GPS coordinates and cardinal directions for additional waymarking and decided that a diversion along the forestry track would make the upper Spithope valley much more enjoyable. The path connecting from Spithope Bothy to another section of forestry track and back to St Francis church looked straightforward on the map. A leisurely tea break in the well-kept bothy and a read of the guest book made for a restorative and entertaining break from the sun. We'll be back in no time, we thought cheerfully.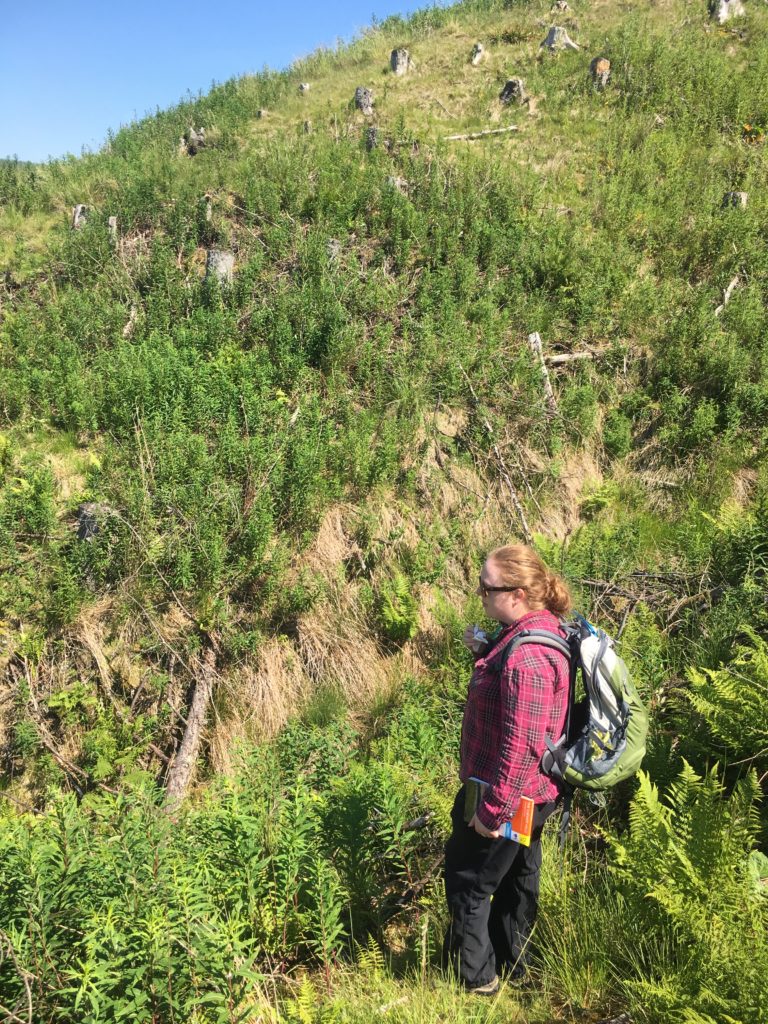 "Can you see a way across?" Karen asked, looking across a steep, overgrown gully. "You'll have to toss me" I joked – Lord of the Rings or Harry Potter references cropped up rather frequently throughout the day. From scrambling through jungles of harvested conifer roots to fording streams, this relatively short section of the route ended up taking a disproportionally large amount of time to navigate. After much hilarity, as we took turns disappearing into ditches, we made it to the forestry track and the last leg of our route. Our list of improvements suddenly much longer and legs much more tired!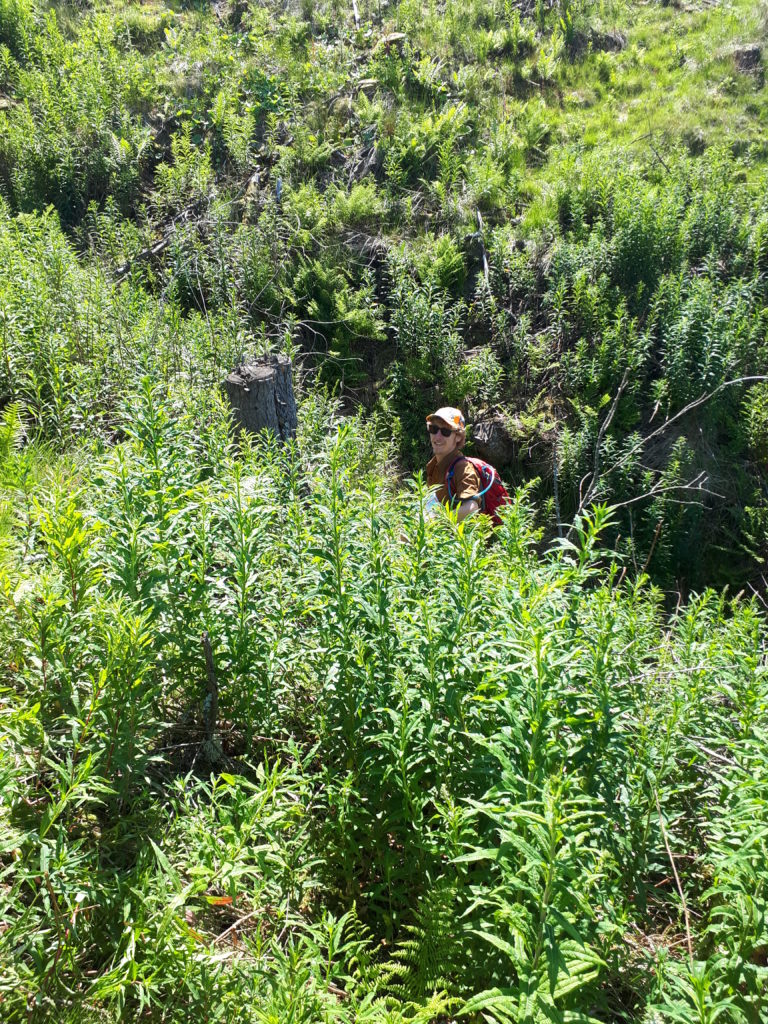 Once back to the car, we almost forgot look inside St Francis church, which would have been a real shame because it is home to a rare stained glass window. The window is a memorial to the men, women, and children who lost their lives in the building of Catcleugh dam in the early 1900s. It is one of the few examples of its kind to include no religious iconography; instead depicting the people who helped build the dam as well as a narrow-gauge railway, a potentially unique feature. This unassuming church feels like an analogy for Redesdale itself. It would be easy to drive straight past on the A68 but if you don't stop to explore you'll miss the best bits of this truly unique and inspiring landscape.
Improvement works to the Byrness to Heart's Toe and the Border Ridge loop were completed in 2018, with help from Forestry England. Thanks to these improvements the route is now easily naviagble and a delight to walk!
Thanks to Karen for a welcome out of office excursion and the excellent company, of course!
Nick