My Revitalising Redesdale – Sam Douglas
April 24, 2020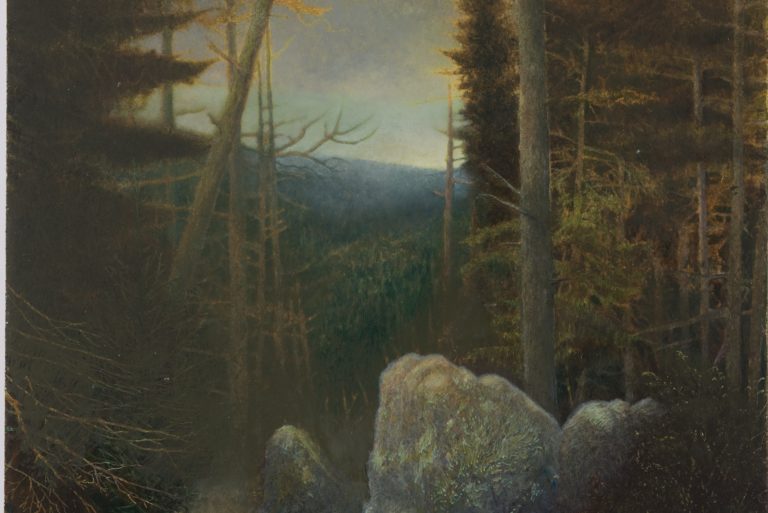 This week for My Revitalising Redesdale, we are taking a break from our team's stories to bring you quite a different view of Redesdale and its neighbouring valleys through the beautiful and characterful art of Sam Douglas. Many Redesdale residents will recognise the location of our featured painting: The Three Kings, near Byrness.
Sam Douglas has spent ten months living and working at Highgreen, Tarset. He has been exploring the area and the wider Northumberland and Borders remote locations; much of this on foot or by bike. Sam has been fascinated by the ancient and more recent man-made structures that scatter the remote parts of the area and county – erected stones, cup and ring marks and remnants of industrial workings.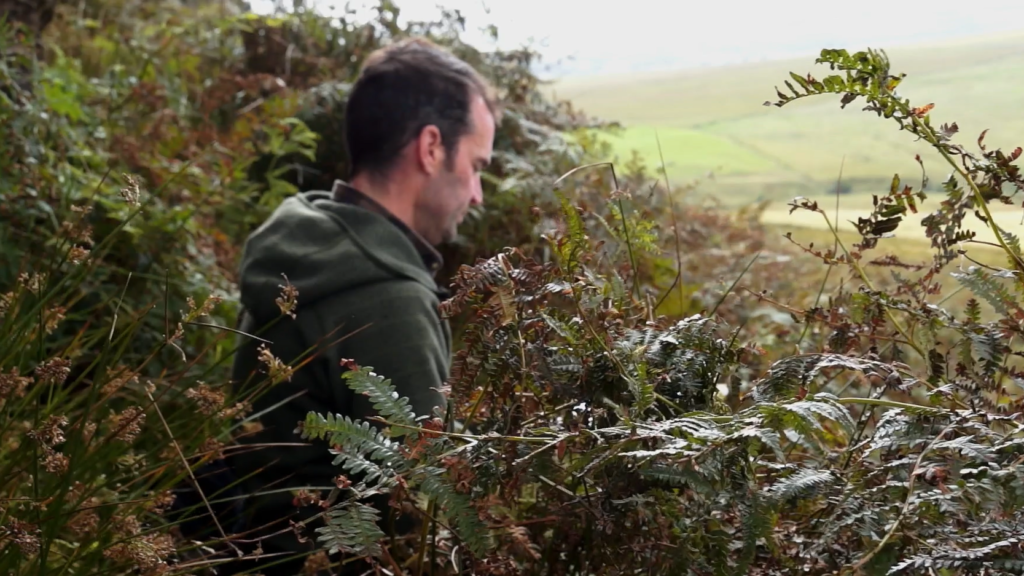 The Three Kings is a rare example of a Bronze Age 'four poster' stone circle. Although common in Perthshire and elsewhere in Scotland, only 22 have been recorded in England (Historic England), two of them in Redesdale and North Tynedale, hinting at a possible strong connection with communities north of the border. We contacted Sam to find out what his thoughts were about his charismatic corner of Redesdale:
"I visited the three kings fairly soon after arriving at VARC [Visual Arts in Rural Communities]; I always like to get hold of a detailed map when I go somewhere new and try and find any ancient sites marked upon it – especially standing stones [and] stone circles.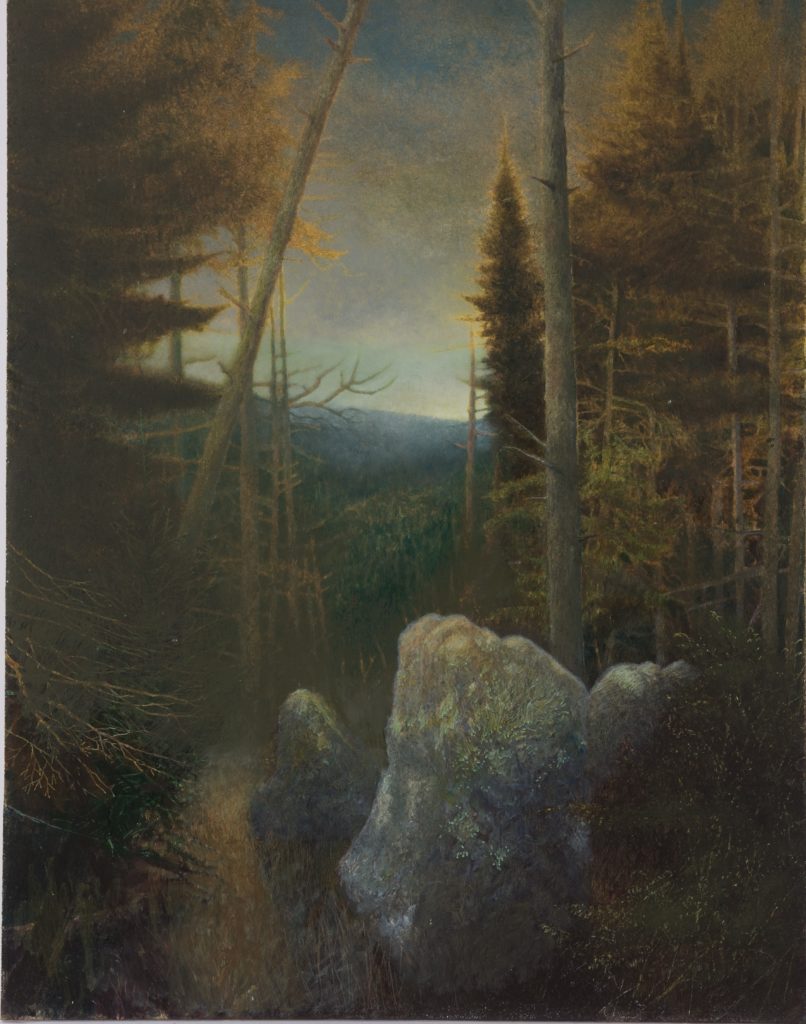 There is a forestry track close by to VARC which also doubles as part of the Pennine way that I cycled along to reach the Three Kings. It runs parallel to the busy A68 and offers nice views to the Cheviots. This became a fairly regular route for my evening cycles to get out into the landscape after a day painting in the studio.
I found the artificial landscape of Kielder with its cycles of timber harvesting to provide an interesting contrast with the permanence of the Three Kings set within it – the stones themselves have some amazing Lichens growing on them, and now that the forest has been cleared around them, there are wide views across the valley and up onto the Cheviots.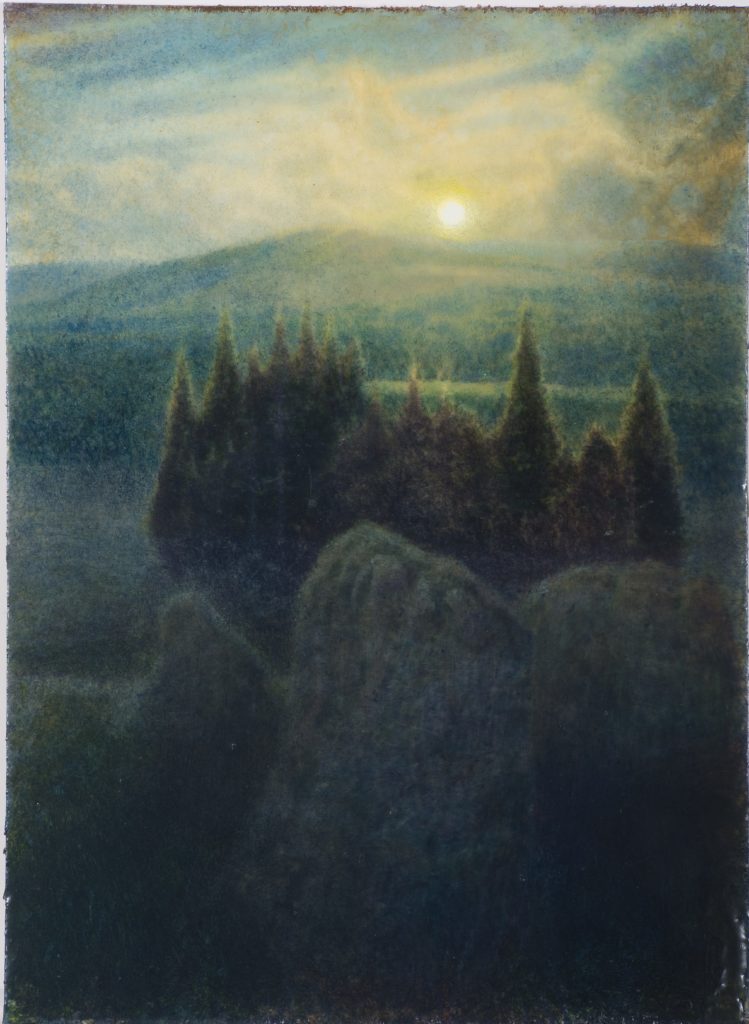 I sat and drew the stones a fair few times as well as photographing them for reference material, there were often plenty of swallows flying around and also a good few midges – it was a good way to spend an hour or two.
I have since painted four different versions of the stones- in various conditions, before and after the site was cleared of trees. These are a part of a group of paintings which attempt to map out my explorations in northern Northumberland – with the Cheviots being a particular focus in this series."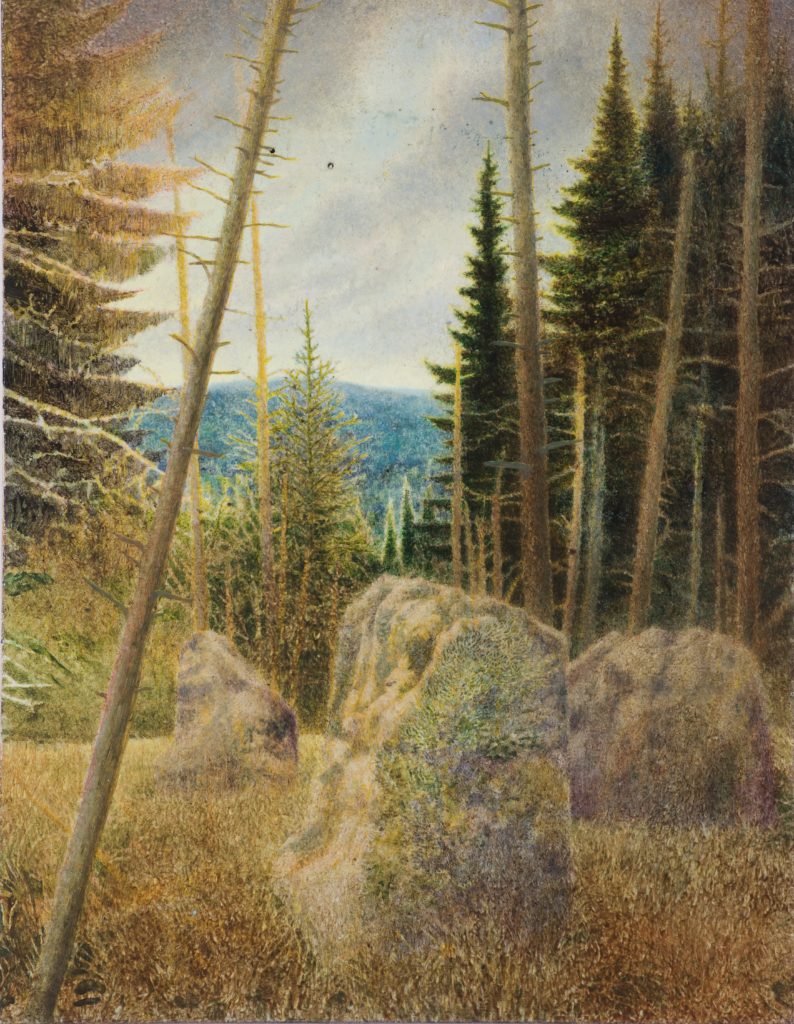 Sam has worked up drawings and photographs into paintings that focus on these remarkable features and prompt reflection on the nature and culture of our long relationship with the land. Sam commented:
"I really like the rural location and being able to walk or cycle straight out into a very interesting moorland landscape on my doorstep. The daily cumulative effect of this is important for me and my paintings and sketches have benefitted from the ease with which I can find inspiration and a sense of immersion in my work. The remnants of mining, archaeological sites and various other old structures that can be readily found or stumbled upon in the landscape have also provided me with much material to work with.
As I have followed various threads and interests, I have found local people (especially farmers) to be a good source of first-hand information on the history and remains within the area. There is also a quite distinct feel to the landscape in Northumberland which has been a welcome contrast from my last years of living in the South East – the low intensity land use of sheep farming, sparse population, dark skies and expansive views provide a quite distinct range of reference material to draw on as a landscape painter."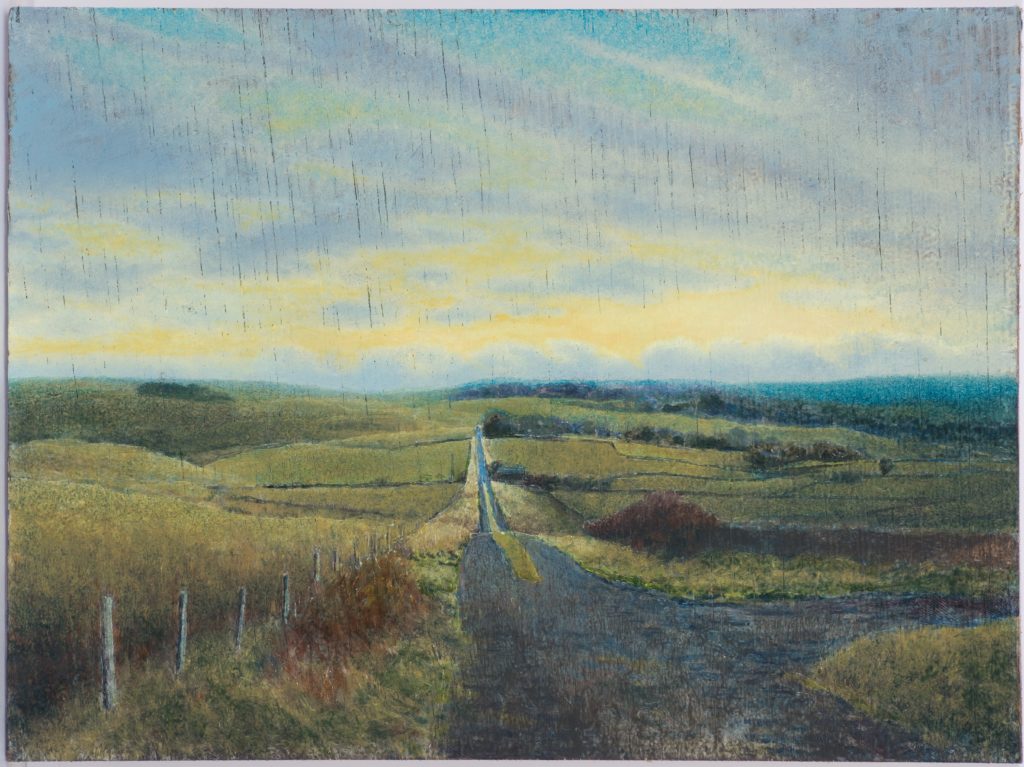 Sam will soon complete the first residency in the multi-partner programme ENTWINED: Rural. Land. Lives. Art. Initiated by Visual Arts in Rural Communities, this programme explores, through artists' practices, different aspects of what makes a 'place' and reveals the interconnectedness of rural land and lives. See www.varc.org.uk/entwined for more about the programme.
For more about Sam and to download his end of residency booklet as a pdf with a full essay by Alexander Marr visit varc.org.uk/entwined/sam-douglas/
You can see more of Sam's work below, on Instagram @samdouglasstudio and on his website samdouglas.co.uk
Once we can get out on site again, we will be working with our partners in Forestry England to improve footpaths to the Three Kings. Watch this space!