What have we got here? The changing identities of one trench at Yatesfield
August 3, 2021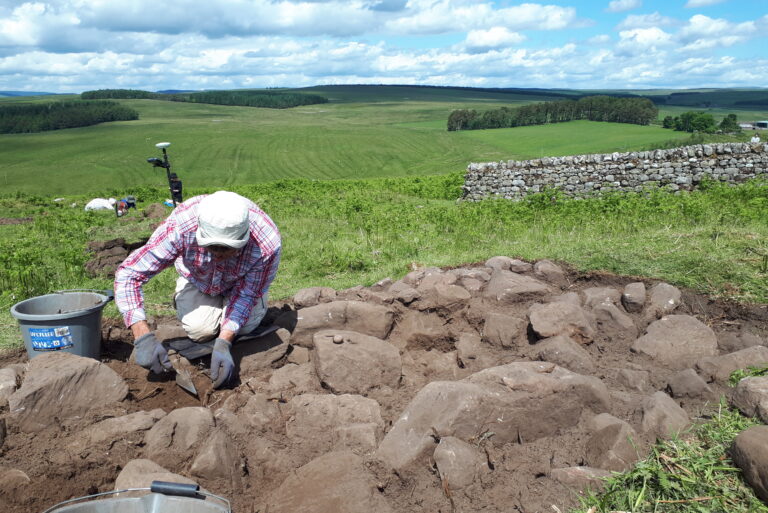 Phil Bowyer explores the developments in one trench during a recent Revitalising Redesdale archaeological excavation. Over to Phil to give his perspective of the event in this special guest blog.
'During the recent Revitalising Redesdale exploratory excavation at Yatesfield on the Otterburn Ranges, I discovered how much can change in the interpretation of a trench over just three days.
On the first day of the dig led by Wessex Archaeology, I had found a piece of shaped flint and after a day off I returned on Wednesday to be told by Ben, the dig leader, that it had been identified from his photo as a probable Late Neolithic/Early Bronze Age blade by Phil Harding of Time Team fame. However, rather than getting the chance to get back into the trench that had contained the flint I was asked to start de-turfing a new trench across a bank further up the slope. Andy Curtis and I duly set to on what appeared to be a fairly mundane length of stony bank running along a possible platformed area.
By the end of the day we had exposed a stony bank and flat area with a few stones above. It fitted the initial thoughts about a banked platform.
The next day Ben set us onto clearing back the flat area at the top of the bank. By lunch time we had exposed a few more stones and Ben was wondering whether we could have double-faced walling with a rubble infill.
Andy and I were keen to explore a bit further and Ben was content for us to do so. With quite a lot of trenches to back-fill on Friday and it now being Thursday afternoon we thought this would be our last chance to find out anything further. As we were troweling down and removing some small stones I came across a rounded pebble unlike any of the other stones. It had a central white-ish, possibly quartz, band running around it.
This interesting find roused our interest. Soon after we uncovered what appears to be a cupmarked stone. Peck marks were visible which suggests that it is not an erosion feature and that it had not been exposed to the elements for a long period. This in turn suggests that it was a deliberate deposit rather than a random field stone thrown into a wall.
As can be seen from the above photo, and the one that follows, we had also started to uncover a number of larger flat stones at a similar level. It was all starting to look less like a wall and more like…what? As you will know if you have been involved on archaeological digs, there is plenty of room for speculation and this is one of the things that keeps you digging. Often during a dig the speculations can far out-number the quantity of finds!
Our excitement was raised further when Andy started uncovering a quite large area of black material at the same level as the flat stones. We by now certainly had enough to have Ben paying close attention and he decided that we needed to take a good sample of Andy's dark material.
The combination of the pebble, the cup-marked stone, the flat stones and the dark material inevitably gave rise to thought of whether this could be a burial monument. The conjunction of banks and burial monuments has been found at various locations so such thoughts were not unreasonable.
At the end of the afternoon everyone was gathered around the trench and discussion centred on questions of what sort of burial structure did we have here. There was a high level of excitement. As excavation leader, Ben was being understandably cautious about jumping to conclusions. As this week was an initial exploratory excavation of a large and complex site and the final day would need to be concentrated on recording and back-filling, he was reluctant to commit to further digging, but eventually sanctioned a little further careful exploration on the final morning.
As Andy was unable to attend on Friday, I was joined by Wayne for a last bit of careful excavation. Given that we thought that the feature could well be a burial monument it was important to proceed cautiously so as not to miss anything of significance. Small darker patches emerging had to be checked out carefully, but we encountered nothing that was extensive enough to require more sampling and we encountered no artefacts. However as we proceeded we exposed further large flat stones and it became clear that we had quite an extensive paved surface. Our would-be grave was turning into part of a possible roundhouse!
So there we have it. Over the course of two and a half days our trench had gone from a platformed bank to a double-faced wall and then a grave and ended up as a probable roundhouse. Assuming we will be able to return to this site at a later date I'm sure that among other things we will be extending this particular trench…and who knows what we will find!
The Yatesfield site is large and complex and shows signs of multi-period features. It was unknown until Revitalising Redesdale volunteers undertook a Lidar survey with Paul Frodsham. It offers great potential for a lot more investigation. I'm sure that we will all await the Wessex Archaeology report on this first exploratory week and look forward to an opportunity to return to this fascinating site.'
Thanks to Phil for this very interesting guest blog! If you want to join in on our upcoming archaeological excavations keep up to date via our events page.